Description
"A woman needs ropes and ropes of pearls"
— Coco Chanel
A velvet-smooth gel with a uniquely sensory and light formula, with an iridescent spiral magically locked inside, composed of collagen fibres withadded mother of pearl.
Atelo-, tropo- and procollagens, produced naturally only in Poland, are peptide gels synergically combined with natural vitamin C, whose richest source among plants is the Australian Kakadu plum (Terminalia ferdinandiana). Superox – C R is a complex with unique antioxidant properties and the most effective known stimulator of collagenogenesis, activated through external application of active peptides on the skin.
The product composition also includes plant extract from goji, acai, noni, pomegranate, mangosteen, new coffee beans, green tea extract and provitamin B5.
Intended use:
Pearl Atelocollagen is intended for full-body skincare except for the most delicate parts of the skin, face and décolletage (see: COLWAY Atelocollagen). Full spectacular effects can be seen on mature skin, as the product, unique in the world,
activates natural revitalisation processes in skin cells.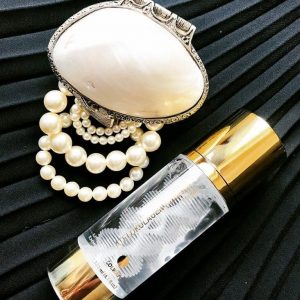 Effects:
improved skin density and elasticity,

efficiently reduces lines and wrinkles,

slows down ageing processes (strong anti-ageing effects),
smooths out the skin surface,

strengthens blood vessels and protects them from breaking,
makes skin firmer,

stops cellulite,

moisturises (creates a protective membrane on the skin to stop water loss),
prevents loss of elasticity,

removes toxins from the skin,

reduces dark spots and discolorations, brightens the skin,

regenerates damaged epidermis
By brightening the skin and reflecting light, the mother-of-pearl condensate also helps hide visible imperfections.
The product contains native fish collagen.
Does not contain parabens, silicones nor emulsifiers.