Description
"Starting today, to look beautiful your skin needs to sleep with COLWAY ATELOMASK"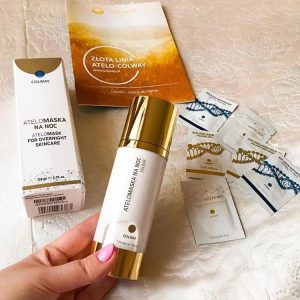 Atelomask is a "sleeping cream". Depending on the needs of the skin and amount of time at your disposal, it can
be used as a night cream or an intensely regenerating, overnight mask. The innovative, very light and easily
absorbed formula makes it possible to keep the product on the skin overnight, which allows it to provide the skin with active ingredients as you sleep, when such ingredients are the most effective. Atelomask is a product intended for modern women who want to reduce their evening skincare routine to one simple gesture. In the morning your skin will be rested, bright and regenerated even if you don't provide your body with enough sleep.
Benefits:
• ProBioBalance ® contains an immunological module, glycoprotein and polysaccharides from biologically active
bifidobacteria dissolved in a bioactive milk-based ingredient
• ProBioBalance ® probiotics work on the cellular level to restore normal microflora and help rebuild the protective layer of
the skin, allowing the epidermis to regenerate effectively while you sleep
• ProBioBalance ® also protects the skin from UV rays – causing collagen and elastin degeneration, thus maintaining
extracellular matrix homeostasis
• active ingredients are highly concentrated to guarantee significant improvement in the condition of your skin
• the oleosome biomimetic liquid crystal base releases ingredients gradually thus preventing the Hayflick phenomenon
(death of cells).
Effects:
• energising
• regenerating
• nourishing
• anti-ageing (reduces wrinkles in the stratum corneum)
• firming (increases skin tension)
• prevents loss of elasticity
• moisturising
• brightening (reduces signs of fatigue)
Main ingredients:
ProBioBalance ®, MC2 (açaí berry polyphenols, ginseng
saponins, THP – tetrahydropyran), native collagen
(tropocollagen, pro-collagen, atelocollagen), pepsin,
allantoin, panthenol, shea butter, hyaluronic acid,
glycyrrhizinic acid.
Intended use:
• Adults.
• All skin types.
Especially recommended for the face, neck and décolletage
in case of tired and stressed skin, which has lost its glow and
vitality, with first wrinkles or signs of ageing.
Also recommended for use in professional cosmetology due
to high active ingredient contents.